The Book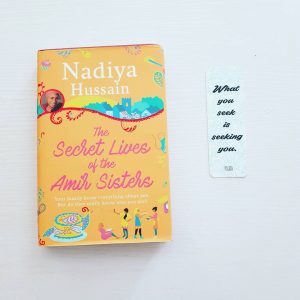 Title – The Secret Lives of the Amir Sisters
Author – Nadiya Hussain
Genre – Fiction
Publishers – HQ
Pages – 384 pages
The Secret Lives of the Amir sisters is a beautiful book (just look at the cover) about the four Amir sisters – Fatima, Farah, Bubblee and Mae. They are Bangladeshi Muslims in the English village of Wyvernage. They all seem like they have it together but the reality is that they are all struggling with something.
Fatima feels like she doesn't fit in and its not only because she is fat and loves cheese or has been unable to pass her driving test. This doesn't help her self-image too as she doesn't think she is worthy of being liked enough or recommended for marriage.
The twins – Farah and Bubblee. the only thing they have in common is the fact that they shared a womb. Farah is happily married, enjoys being domesticated and appreciates culture. She longs to be a mother but even though she hadnt borne her own children, she pretty much 'mothers' the members of her family especially their only brother Jay. Bubblee is well, bubbly. She dares to be different and wants nothing of the culture. She isn't very family-minded and works hard to make it as an artist in London.
And then last is Mae. The baby of the house. She is a social media star who finds solace in writing on her blog. She loves to capture all the weird family moments on video too and so pretty much knows a lot about what is going on with everyone.
All in all, these sisters are different but family tragedy puts them in a situation in which they have to learn about themselves and each other. They learn about life, love and male chauvinism. Most importantly, they learn that sometimes family isn't just what you have, it's exactly what you need.
The Author
When I first saw the book, I wondered about the author, "so she bakes, cooks and writes?" Well, she does write pretty well Ma Sha Allah! Her writing is fluid and easy to read. It was a bit slow at the beginning but when I got into it, it was unputdownable and it came together nicely in the end.
Lessons and reflections from the book
It is a warm and hearty read with a lot of lessons. Some of the things that stood out for me are;
Everyone is going through something and just because someone easily has what you want, it doesn't mean that they have all that they need.
Family (as annoying and demanding as the members may seem) is important.
You must first accept yourself. it is nobody's duty to make you comfortable in your own skin.
Cake may actually be able to make everything better.
Recommendation
To those who love to read and those who need a light read that would cause them to throw their head back in laughter.
You can get your copy here
You can find other books by the author here and she has some for children too.
I always love to hear back from you. So let me know in the comments if you have read this book or another book by the same author or what you are reading at the moment. 
You can find other books I have read here.
*This post contains affiliate links.
Related products